Fort Myers Beach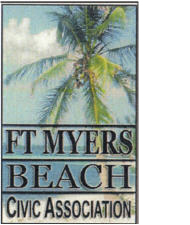 - ZIP CODE 33931
Emergency Numbers!

9-1-1
Emergency Number for Fire, Police and Medical

Fort Myers Beach Fire Department
Non-Emergency 239.463.6163

Fort Myers Beach Town Hall
239.765.0202

Florida Poison Information Center
1-800-222-1222 Toll Free

Sherrif Department
Non-Emergency 239.477.1830


First Aid Tips
We hope you don't have any problems while visiting Fort Myers Beach, or if you live on the Island. But, if you do have any of the following problems, we offer some helpful hints for you:
Sunburn - Soak in cool water unless skin is broken or blistered. Ibuprofen may help.
Bee Stings - Apply a baking soda paste and ice. If allergic, seek medical help.
Jelly Fish Stings - Apply vinegar, sugar, salt or dry sand. After 20 min., rinse with salt water.
Oyster Shells - cuts and abrasions can result in serious infections. Medical treatment advised.
Sting Ray - rinse with water and apply heat to neutralize sting. Seek medical attention.

The Sting Ray Shuffle: Avoid the Stings. Shuffle your feet as you walk in the water to avoid actually stomping on top of a sting ray. This is called the Sting Ray Shuffle.