Fort Myers Beach Fishing Report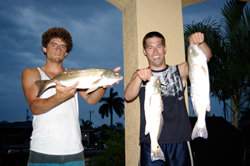 Our FMB fishing teams cover Estero Bay and the coastal areas of the Gulf of Mexico.
We have four fishing teams on the water at least once a week. Check our postings for current fishing activity and some nice pictures as we get them in.

2014 Saltwater Fishing Regulations issued January 1, 2014 - Click Here

Check Current Snook Fishing Regulations. Anglers may still catch and release snook during snook harvest closures.